A.) RECRUITMENT SYSTEM
The quality we bring to your environment begins long before you see our security guards.
BLACKPEARL conducts comprehensive pre-employment background investigation on all security officers and security guard applicants. We have employed a staff psychologist to oversee the initial screening of our security guards by implementing a pre-employment written psychological inventory and a psychological interview. A second step in the screening process will be conducted by a BLACKPEARL Security Consultant exclusively assigned in the HR Department. Furthermore, all applicants will submit to a drug test, complete physical examination, battery of aptitude tests and neuropsychological exams. Another element of the BLACKPEARL DIFFERENCE!
———————————————————————————————————————————————————
B.) TRAINING PROGRAM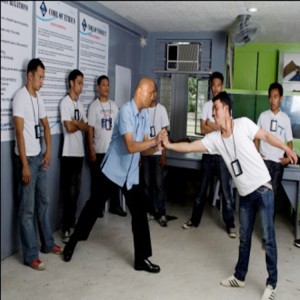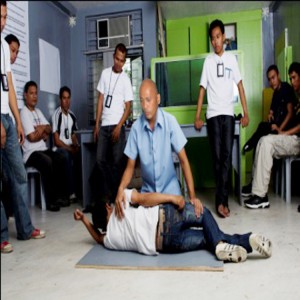 BLACKPEARL conducts training that exceeds that of other agency program. The knowledge of our management and operation team is passed on to our new employees. In addition to the PNP mandated certification courses, BLACKPEARL security guards must attend in-house trainings that include:
 Police Defensive Tactic Training
 Patrol Techniques & Criminal Law
 Customer Service Seminar / Radio and Telephone Courtesy
 Basic Life Support and First Aid Training
 Gun Safety and Handling Training
 Disaster Management Training
 Bomb Search and Detection
 Intelligence Gathering and Surveillance
 Self-defense Class
———————————————————————————————————————————————————
 C.) OPERATIONAL SYSTEM
BLACKPEARL SECURITY guards are trained to act as a criminal deterrent by adopting the principles of C.P.O.P. (Community Police Officer Program) methodology, simply put, our guards are trained to be an approachable source of information to patrons, residents and employees, letting the public know that we are there for them generate a feeling of community safety.
BLACKPEARL guards are trained to make visible foot patrols  throughout their post in undetermined patterns .We encourage our personnel to interact with your patrons and employees in addition to standing a fixed post.
Client establishment with more than three (3) security guards are assigned a Head Guard (HG) tasked with coordinating with the guards and assisting the client with the proper dissemination and enforcement of company policies.
A Shift-in-Charge (SIC) officer is designated to take charge of security guards manning the different shifts. A Detachment Supervisor (DS) is deployed in client establishment with twenty (20) or more guards.
Head Guards meet every last Saturday of the month with the Operation Department Heads, to discuss concerns, evaluate the guard's performance as well as correct their deficiencies and to undergo continuous security trainings and lecture.
The whole area of region VII is divided into Area I (MANDAUE & LAPU-LAPU), Area 2 ( CEBU CITY & CEBU PROVINCE) and Area 3 (BOHOL PROVINCE) headed by licensed Security Officers(SO).
———————————————————————————————————————————————————
D.) QUALITY MANAGEMENT SYSTEM
An essential part of our unsurpassed quality control is THE BLACKPEARL SUPERVISION. BLACKPEARL closely monitors our security guards with our Mobile Field Inspectors. These Inspectors will insure strict adherence to BLACKPEARL general orders and YOUR COMPANY'S rules, regulations and ordinances. They conduct extensive inspections and on-going training of our officers. Inspections include:
All sites are properly secured and running according to the security plan

Uniform standards check / Appearance
Status of equipments, paraphernalia and records
Disposition of the security guard on duty
Level of performance
Compliance to instructions
Implementation of client's policies
Client contact
———————————————————————————————————————————————————
 E.) PERFORMANCE EVALUATION SYSTEM
PROBATIONARY PERIOD
All BLACKPEARL guards go through six (6) months probationary period. Their performance and efficiency are monitored and will undergo probationary guard's seminar before acquiring a regular status.
To ensure quality service from each member of BLACKPEARL, the following performance evaluation rating sheets/system shall be accomplished and submitted to the management on a regular basis:
PERFORMANCE EVALUATION RATING
BLACKPEARL Mobile Field Inspectors shall accomplish the performance evaluation of each security guard on a monthly basis. Results shall then be consulted with the  clients for notation, and forwarded to BLACKPEARL management.
SERVICE EVALUATION RATING BY CLIENTS
BLACKPEARL will also request the clients to evaluate the performance/service of all its security guards with the use of the Evaluation Form on a monthly basis. This rating shall be computed on the following criteria: Interest and attention to duty, Obedience, compliance to instructions, Public and customer relations, Mental ability, Personal appearance, Personal traits, Knowledge of the job, Reliability and efficiency, Initiative, Cooperation, Honesty and integrity, Alertness and Attendance.
———————————————————————————————————————————————————
F.) DISCIPLINE SYSTEM
A Grievance Committee is in charge in administrative hearing and investigation for misbehaving guards is in place. Code of offences and penalties manual is given and briefed to all guards.
———————————————————————————————————————————————————
G.) MENTORING AND CONTINUOUS SECURITY TRAINING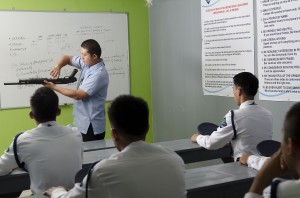 BLACKPEARL provides a COMPULSORY continuing security training program.  List of topics are prepared and hands on trainings are given every month. This is done to refresh the knowledge and skills that they have learned and to update their adeptness of the latest strategies in security field.
A QUARTERLY DRUG TESTING and NEURO-PSYCHIATRIC EXAMINATION and EVALUATION are done to all BLACKPEARL staff, officers and security guards. TRULY A BLACKPEARL DIFFERENCE!
All BLACKPEARL security guards undergo an in-service/ re-training course (NC- 2) every two (2) years prior to the renewal of their licenses.