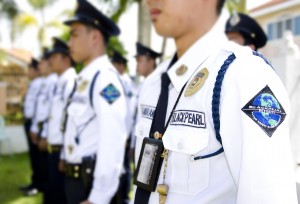 To insure honesty, efficiency, loyalty and devotion to duty, BLACKPEARL guards receive the wages and benefits mandated by law:
  SSS ( contribution loan)
  PAG-IBIG ( contribution and loan)
  PHILHEALTH
BLACKPEARL has also established and given the following:
 Life insurance
 Free Medical Services (check-up and medicines)
 Cash Advances
 Loan Program (trainings and license application/renewal)
OTHER PROGRAMS:
BLACKPEARL provides supplementary benefits for its staff and security guards.
 1.) SCHOOL PROGRAMS
BLACKPEARL SECURITY AGENCY provides student/scholarship loan to our security officers and guards for their training and license application or renewal. They are also encouraged to enroll in local universities for self –advancement, provided it will not interfere with their official duties. A tie-up with a local University allows tuition fee discount for BLACKPEARL employees.
 2.) POST TAILOR AND BARBER SHOP
Tailor and barber shop is made available to ensure that the guards are well groomed and in their complete and proper uniform.
 3.) BLACKPEARL COOPERATIVE
A multipurpose cooperative was established to enable management, staff and guards to avail of goods, loans and other services as shareholders.
4.) COMBAT AIKIDO CLASS
This is to enhance the physical fitness and proficiency of security officers and guards in hand to hand combat.